Potential Applications of SFD® Surveys
SFD® surveys can be used to: 
Sample use cases shown below: Prospect Identification and Prospect Verification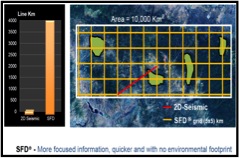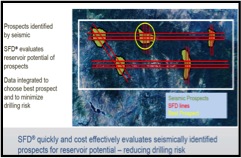 Frontier exploration, licensing and technical evaluation areas.
Identify areas of best reservoir potential to focus seismic acquisition.
Enable decisions on purchasing or relinquishing lands.
When there is no time to acquire seismic prior to bidding, SFD® can rapidly evaluate potential bid blocks and provide a competitive edge.
Re-evaluation of potential in mature areas.
Identify areas with remaining reservoir potential.
Focus resources and data purchase decisions.
Lead generation and prospect evaluation.
SFD® is effective in any geologic settings, both onshore and offshore.
Enables re-evaluation of seismic to envision other types of plays that would normally be bypassed.
Provide independent verification of reservoir potential.
Correlate data to known reservoir analogs